Birds are delightful guests all year around. When we look out our windows to see the birds, we almost can't resist to say "wow".
It's not that difficult to create a yard to allure birds. Plant some of flowers, shrubs, fruit trees for a bird friendly yard, hang nesting boxes on posts or tree, and put up a bird feeder. Holly, rose, pear and native plants such as oaks, cherry trees, asters, sunflowers are helpful .
When you put up your birdfeeder, try to remember it should be cleaned often.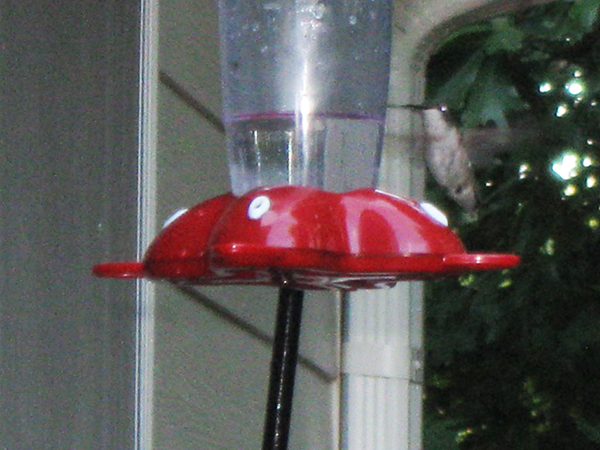 [ Hummingbirds like drinking water. Put the sweet (1 cup of sugar + 4 cups of water) water in the refrigerator over night and feed them]
The main idea about bird friendly yard is for helping birds while we maintain our yard healthy.

Some of you enjoy seeing or hearing birds like cute chestnut-backed chickadee or colorful blue jay.
Here in Atlanta we have woodpeckers too. Suppose you may encounter a woodpecker one morning. You wake up with the sound of a woodpecker pecking your back porch. But you found carpenter bees made holes there and the woodpecker tried to take bees out of the holes.
Maybe you don't worry about the small holes, but holes can be sealed with filler. Instead you will be surprised by how good your yard is.
When you design your yard improvement, go for nature friendly. Having a good yard is definitely worthy!
애틀랜타 부동산 정보 :: 커뮤니티 정보 :: 유용한 절차 정보 :: 정확하고 세심한 일처리 :: 지혜로운 협상
:: 고객께 득이 되는 클로징 -애틀랜타 윤 진 부동산 404-519-6611
INFORMATION DEEMED ACCURATE BUT NOT GUARANTEED
Listings source - FMLS,Inc. Americas Realty,Inc. Listings belong to the listing brokerage.
EQUAL HOUSING / Copyright(c) BestHM.com All right reserved / OWNED AND OPERATED BY REALTOR 윤진